Upcoming Events
Find an upcoming event near you and get in the driver's seat.
EV Car Dealership Program
Do you represent a car dealership and want to participate in the Drive Electric Alabama EV Car Dealership Program? Are you a consumer considering whether an EV makes sense under your circumstances?


Complete the form below and someone from the Alabama Clean Fuels Coalition (ACFC) will contact you to follow-up. Your contact information will not be shared with any other third party without your consent. ACFC may connect consumers with dealerships participating in the program. These connections can lead to discussion of topics including available EV inventory, how to test drive an EV, vehicle-specific topics like battery range and charging needs, warranty terms and maintenance requirements associated with EV ownership.
Participating Dealerships
Ride & Drives
Ride & Drives let you experience electric vehicles up close and in person. Real EV owners are on hand to answer your questions and help clear the air on any hesitations you have around driving electric, like range anxiety, battery life, hauling capacity, maintenance costs and everyday use.
The Intersection of Innovation and Collaboration
It's not a myth. It's not a fad. Electric vehicles are taking off in Alabama, adding jobs and charging stations across the state.
MORE JOBS FOR ALABAMA
Alabama is known as an auto manufacturing powerhouse, and believe it or not, electric vehicles are building on that legacy by creating thousands more jobs across the state. Alabama-based EV jobs are growing across many functionalities, including manufacturing, supply chain, battery production, charging infrastructure and installation, and industry research and development.
18 GRANTS
Governor Kay Ivey has awarded 18 grants to help Alabamians switch to EVs.
600 JOBS
Mercedes-Benz is creating more than 600 new jobs in their $1 billion expansion.
$59 MILLION
DURA Automotive Systems is investing $59 million to open a manufacturing facility for EV battery trays.
$7.4 Billion
Hyundai is investing $7.4 billion to produce EVs worldwide, including in Montgomery.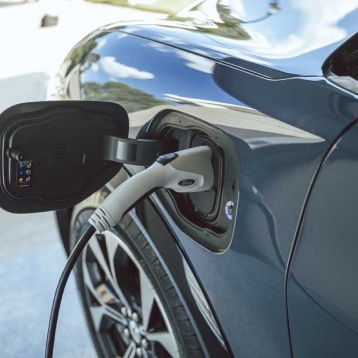 In the News
Electric vehicles are making headlines across Alabama. Explore recent articles to learn more about the many benefits of driving electric.